Computer Shopping Assistance
Have you ever gone to a chain department store and could not figure out which laptop or printer was best for your needs? We have heard from so many customers who have had that experience and have needed our help. They tell us they don't understand the many choices on the market today, there aren't enough sales staff at the stores to answer their questions, or they feel as though the store personnel are trying to upsell them.
Therefore, Island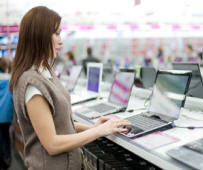 Website Design & Consulting has added a computer shopping assistance service. This is a unique extension to our other computer-related help offered. With our personal advocacy, we can guide individuals, families and business owners to purchase the most affordable but dependable computer equipment, accessories and software.
And we can do so objectively, and after we ask specific questions as to your goals and skills with computers. Our staff will also make recommendations on what will keep your computers running safe, fast, and user-friendly.
Please call us anytime to schedule a computer shopping appointment with Island Website Design and Consulting. We can be reached with extended hours at 843-636-3833.